Belfast Boys: David Leckey, Jonathan Aven, John Glennon, Ronald Kirk
These four lads went missing between 1969 and 1970. They were later joined in tragic mystery by John Rodgers and Thomas Spence in 1974. None have been located and though their names abound on the internet some of them are barely remembered in any detail.
In order of disappearance you have:
Jonathan Aven is said to have lived at 21 Sydenham Drive, East Belfast. He vanished September 20, 1969. He was just 14 years old.
David Leckey, disappeared only five days after Jonathan. Those lads only lived a short distance from each other in East Belfast. David was just 12 when he was last seen. His address, Memel Street no longer exists. The general area can be found by searching for Rotterdam Court.
John David Glennon was 16, and from what I can see, lived in Divismore Crescent near the Andersontown Road. If correct he was not that far away from where Thomas Spence and John Rodgers would later disappear in West Belfast. John Glennon was last seen on 8th January 1970.
Ronald Kirk, also 16 and also last seen on the same day, lived some distance from the others. My quick search says that these older boys vanished about 15 miles from each other. Ronald is said to have been last seen near Barn Road, Carrickfergus.
John Rodgers and Thomas Spence, 11 and 13, were both last seen just after 9 am on the Falls Rd in East Belfast. They should have been getting on a bus for school. The date was 26 November 1974.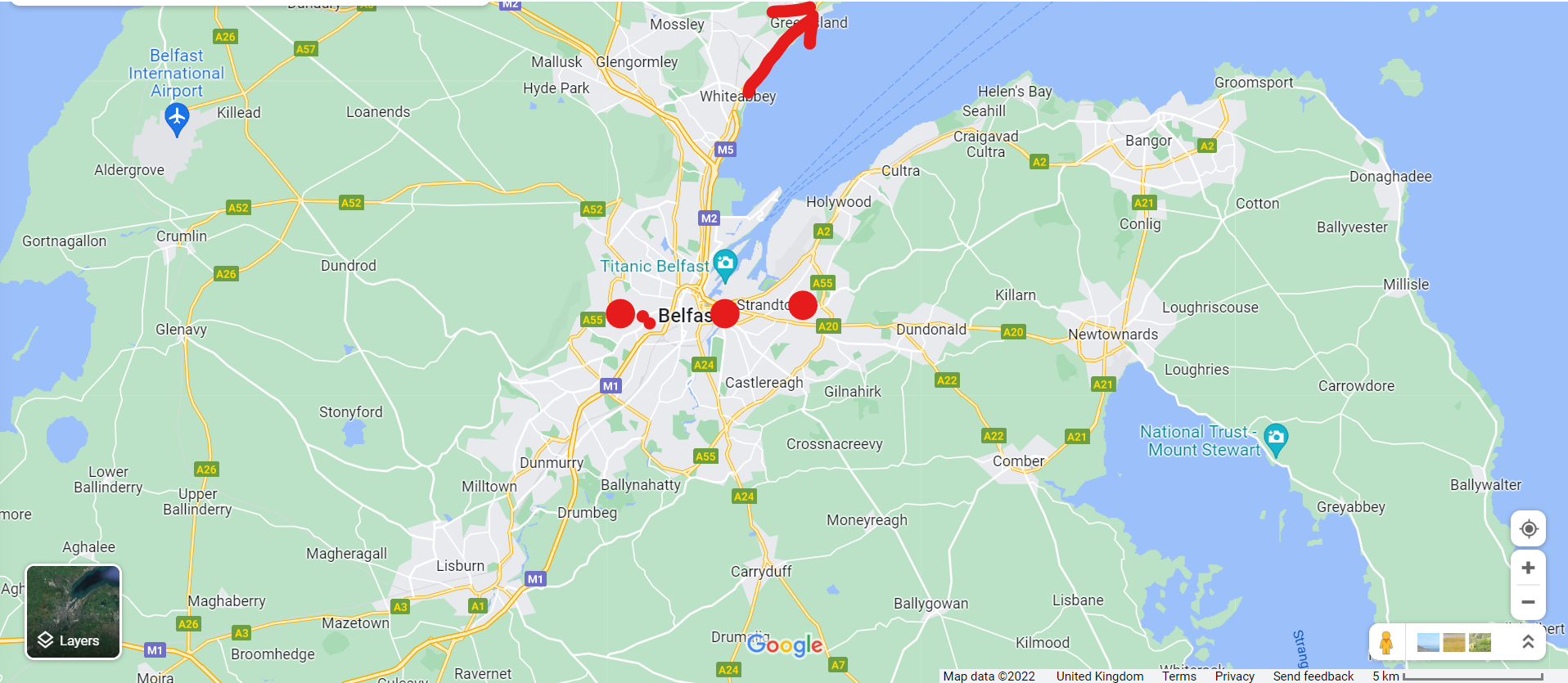 Above is a Google map displaying my fine handling of all things imagery. The larger red dots are the 1969/1970 boys and the smaller dots are the two who went missing in 1974.
To add confusion to mystery there is another lad mentioned. A  J.Lesithen who I have been told went missing during this period
The issue with this last boy is that is all I know. I noted that a FOI request submitted to the Northern Ireland cops said they had no information about him. It does not get much better for the other lads either.
In a Belfast Daily article (10/2012) a gentleman was looking into the disappearances. Darren Brown had lived at David Leckey's house 17 years after the disappearance. It seems to have had an effect on him. So in 2012 he was appealing for anyone who went to school with the lad at Oakleigh School. As I looked around it appears the establishment is now called Park School on Ravenhill Rd. That puts it at about half a mile from where David lived.
So Jonathan Aven and David Leckey were about the same age and lived in East Belfast. Both vanished within five days of each other. What happened to them?
I noticed that it is said David should have been in school. Curiously it is also said the family don't even know if he made it there. So that puts his disappearance in a similar category to the lads in 1974. Both John Rodgers and Thomas Spence should have made it from the Falls Rd to their school on the day they went missing.
I am struggling to find out even a time that Jonathan Aven went missing. Very quickly I have had to go from my usual safe areas of mainstream media onto forums etc.
Darren Brown was commenting on Belfast Forum in 2012 at about the time the article came out. One of the contributors mentioned the Kincora enquiries. The link to those decade old posts is below.
The Troubles
Kincora was a boy's home ( US Child Protective Services type place). In various publications there are accounts of the complicated twists and turns of it's rather vile history. In summary the place should have been a haven for kids from challenging backgrounds. Instead it was rife with paedophile activity.  The scope of later enquiries has been wide and stop start. Allegations include British intelligence agencies manipulating offenders via blackmail. At the time of all of the disappearances we talk about here Northern Ireland was erupting in the chaos that is now called The Troubles.
It is against the backdrop of escalating violence that the search for Jonathan Aven and David Leckey was set. Some have suggested that explains the lack of headway made in looking for them and the older lads four months later. For those that do not know about The Troubles it was a near 30 year period of paramilitary war that claimed over 3500 lives. Over half that number are described as civilians, that is people just caught up in the bombs, shootings and the security operations of the time.
Below is a Police Service in Northern Ireland report that looks into the Kincora original enquiry. It is a large document. I can point to page 9 ( sect 18) that will give you an idea of the sort of violence that was going on albeit the account starts in 1971.
You can imagine the sort of pressure on resources for the cops at the time and also the restricted help the community could give. The younger boys going missing would have been declared a priority, but the execution of that priority would have had unique challenges.
I hasten to say I am not making excuses or laying blame. This is not a piece about The Troubles.  I am just saying that whatever else was at play in 1969/1970 chaos was also a factor.
Another Troubles related point was also made in the Belfast Forum postings in 2012. The West of Belfast tends to be occupied by Catholic folk. The East, where Kincora and the younger boys were, was predominantly Protestant. Again, if you don't know the significance of that I will say briefly the two did not mix well when David Leckey and Jonathan Aven disappeared. Moving between the areas became increasingly difficult because not only was it not a safe thing to do but the security services setup check points to control the city.
The point is the idea of a single offender would have to explain how they travelled unseen between the two opposing areas.
To add murky water to all this, in researching what I could I came across the murder of a 10 year old boy called Brian McDermott. Brian was playing in a park called Ormeau Park in 1973 when he disappeared. One edge of the park is on Ravenhill Rd. I mentioned it above as it is the same stretch of road David Leckey's school was on. Some of his remains were found in the River Lagan. Another side of the park runs along its banks.  We have put a separate linked article together for this poor kid.
The Older Boys: Ronald Kirk and John Glennon
I have nothing, to be frank, of much use here. I don't even get a result from the British News Archives about these young men. This is a modern view of Divismore Cresent where John Glennon lived:
A modern, random, view of Divismore Cresent, West Belfast.
Here, below, is a overview of Belfast showing Carrickfergus to the north. Carrickfergus is where Ronald Kirk was last seen.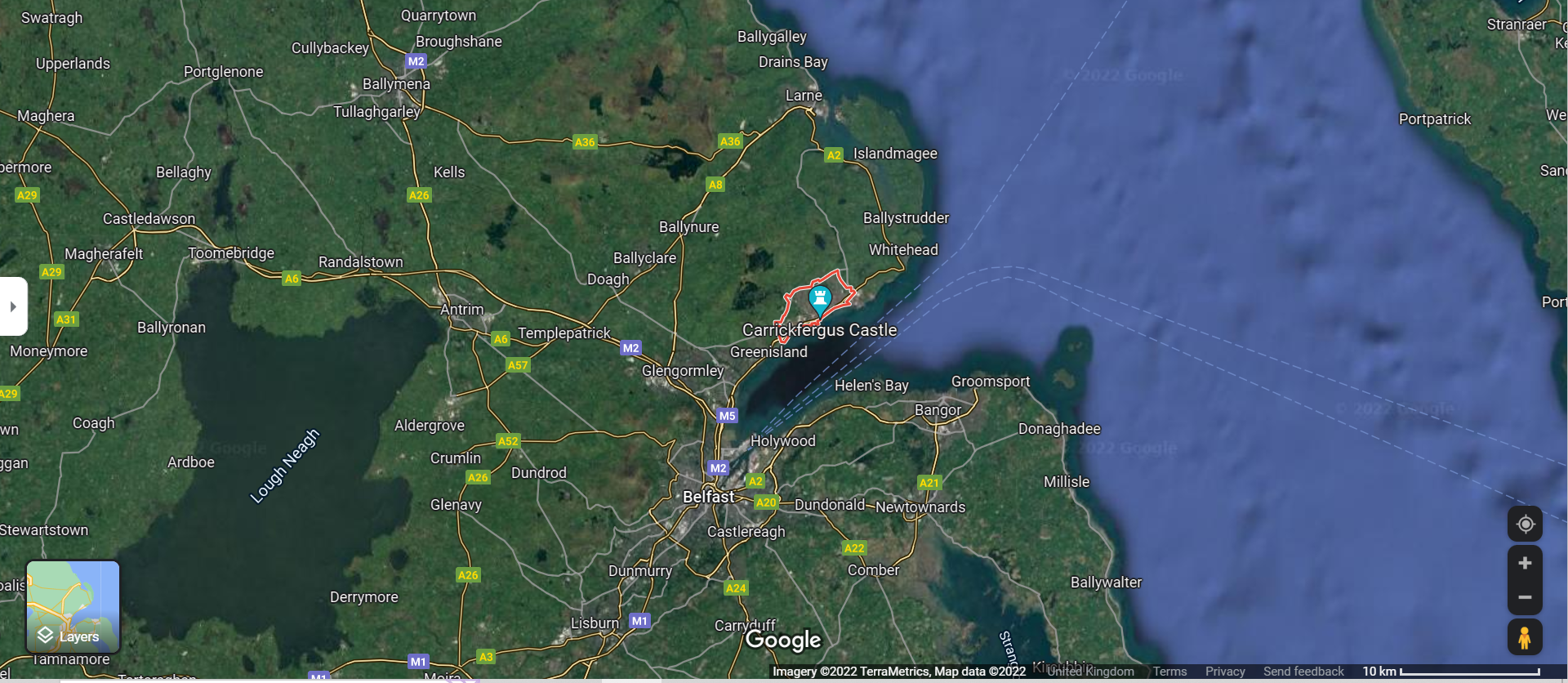 By the time these two 16 year olds vanished the British military where established on the streets of Northern Ireland. In fact they had been deployed in increasing numbers since the month before the younger lads went missing.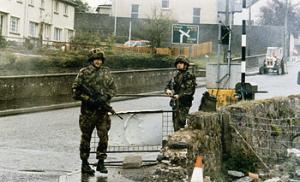 What connection they had to each other, if any, I have no idea. All I do know is nothing is readily accessible and if it was not for the repeated claim that they went missing I would have been skeptical of putting their names among the many we are writing about. I will try and keep looking for more information.
No Conclusion
Well not from me. I write this because the most recent publication of these boy's names was a long time ago. We rank reasonably well on Google and their names should not be forgotten. For all I know a lone predator took each of these kids. Equally each could have met a separate fate at the hands of mis adventure or been caught up in the violence of the time. I totally agree mis adventure is unlikely.
I have done my best to add some context and this article sort of asks questions about them rather than supplies any answers.
Here is a list of the other unsolved child murders and vanishings we have covered. This list is including those we have written about between the 1960s and year 2000.
John Rodgers and Thomas Spence
Ronald Kirk, John Glennon,
David Leckey, Jonathan Aven,
John T
jtinehem@reasonedcrimechronicle.com
Please note you may well know more than we do. We confess to just doing our best with this one. We welcome any correction etc. We try and be polite, please return the courtesy. If you have already researched all this tragedy and the awful situation for the families, we will happily link it in here.
Kincora boys' home scandal: Victim seeks judicial review – BBC News
M15-D219-and-D220-George-Clarke-PSNI-REV-2-RO.pdf (hiainquiry.org)
THE LOST BOYS: SCANDAL OF MISSING DAVID LECKEY AND THREE OTHER BELFAST SCHOOL BOYS | Belfast Daily
The below helped pinpoint where David Leckey's house once stood.
when did memel street and district disappear? (belfastforum.co.uk)
The guidance I took re the segregation of the city:
City of Belfast – Industry, Tourism, Religious Segregation, Map (wesleyjohnston.com)
DAVID LECKEY (12yrs old) MISSING since 1969 (belfastforum.co.uk)
Brian McDermott (murder victim) – Wikipedia
The below is an outline of the military deployment in Northern Ireland between 1969 and the late 1990s