Hiding In Plain Sight: The Murder Of Peter Thurgood and Lindy Benstead.
This a murder that had all the elements you would expect from a crime that would be easily solved. Yet reality is very different from fiction, life and violence do not have an author who wraps it up nicely neat for us.  A couple, Peter Thurgood and Lindy Benstead, were reported to have been having an 'affair'. Mrs Benstead was married and Mr Thurgood was divorced.
On the day they died, 22nd April 1986, they had met up and gone for a drive to a country lane. Mr Thurgood had rented a car and they were found shot to death near to it. Mrs Benstead had shotgun injuries to the head, Mr Thurgood had been shot in the chest and head.
The cops say the affair was well known and so the obvious place to start was by looking at one of the oldest motives known to humans, vengeance.  Mrs Benstead's husband was quickly eliminated as a suspect as he had a solid alibi.
Mr Thurgood was a bricklayer by trade and Mrs Benstead was a cleaner at a golf club. So a criminal/ financial motive was unlikely.
In 2018 detectives went to America to interview a witness. He said he knew who had killed the couple because he had driven the murderer away from the scene and then on to places to dispose of the weapon. I saw that this gunman was described as a deer poacher, a year later the named man died. It says that the man was not questioned. The BBC quotes sources with the Sussex Police as saying there was 'no evidence to corroborate this allegation'.
The last press release I have seen was from March 2022. That was a rehash of the American witness story.
I had a look on Google Maps. The clearing where they were murdered is in a rural area called Chapel Common. This is a straight shot across to the golf club where Mrs Benstead worked. The couple lived in their respective homes seven miles to the north of the place they were found.
The latest attempt to use updated forensic examinations appears to have centered around shotgun shells found at the scene. However, that was a some time ago without any updates.
Loose Ends And Loose Thoughts.
I could not see what time of day this is thought to have occurred. Apologies if I missed it but even the police account on their website does not mention it. The police talk of the answer to this crime being found in the local population.
The fact they did not question the suspect named by the witness in 2018 suggests one of two things. Either it was unlikely the named man was the killer or he was infirmed somehow and they couldn't talk to him. As I said he died a year later. There has been more effort since to identify who had used those shotgun shells and so it looks like the police are not settled on that or any other firm line of enquiry.
Mr Thurgood had hired a silver Mazda saloon that day and a replica was shown pulling onto a narrow track just inside the area known as Chapel Common. They were only a short distance from what is now the B2070 road that runs between Liphook and Rake.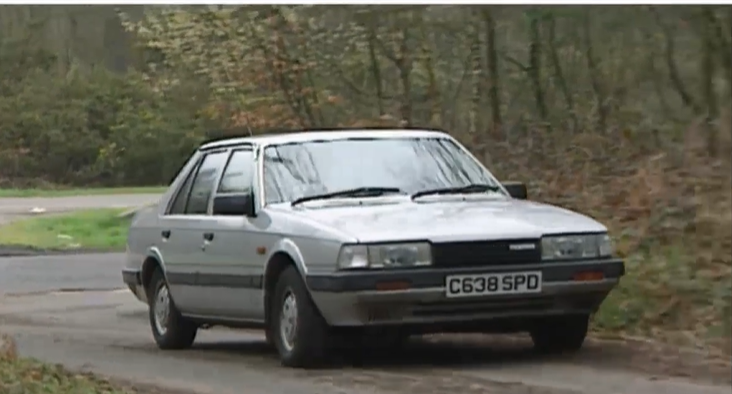 All I can do is look at this and other cases we have come across where there is an obvious motive yet they remain unsolved. I believe it is because the obvious motive is often just coincidental. We have the Annecy Shootings where all manner of intrigue was discussed as the reason so many died in a similar rural spot. However, the murder weapon was local and probably a relic from circa WW2. The coverage of the case concentrated on a British family and a French cyclist. The latter was rumored to have been involved in a relationship that was frowned upon by a rich family. For all that has been written it is just as likely that a local went crazy and shot everyone on a bad day as much as there is credible evidence of a targeted assassination.
In an infamous incident in the UK, The A6 Murderer, a courting couple were assaulted leaving one dead and another paralysed. All the indications were he was just a lone killer randomly crossing paths with the couple. The Zodiac Killer in the USA did the same thing. In Australia in 2021 a man and a woman, who were involved in a long running affair, were killed while on a trip into a rural area. Currently a man is awaiting trial for their murders. It appears at the moment that he had never met them before.
Whatever you are doing in your lives you could find a similar person who has been murdered. When murdered the police look for motive. That means all aspects of your life will be turned over. It is the enduring indignity that the killer inflicts on us. If you are having an affair, if you are up to dodgy financial activities or you have anything shady in your life that could well become a promoted motive.
Yes, the killing of Mr Thurgood and Mrs Benstead could have been because they were not meant to have been doing what they were. Equally they could have just been in the wrong place at the wrong time because that happens too.
No matter what they were doing they deserve some justice. Also, who wants someone who can do that and remain out and about? Did they kill again?
The Sussex Police are to be commended because not all law enforcement link colder cases on their website. I leave their account below. You can find lots of mainstream media stories about these poor people if you look.
If you know anything about this double murder please contact the cops. The children of both victims are united in wanting to know who killed their mother and father.
Cheers
John T
Just a thought. In the past, with similar cases, we have had people declare X,Y,Z is guilty. That is fine but we won't publish names unless the police charge and convict them. Theories are theories until they are proved to be fact. I put this because some readers seem to then get upset that we do not just pursue their theory. Simply put anyone can do what we have done. So if you are convinced a person needs to be named and shamed then create a website and good luck to you.
https://www.sussex.police.uk/news/sussex/news/witness-appeals/fresh-police-appeal-in-35-year-old-west-sussex-murder-cases/