Unsolved Murder of Kirsty Bentley, New Zealand, 1998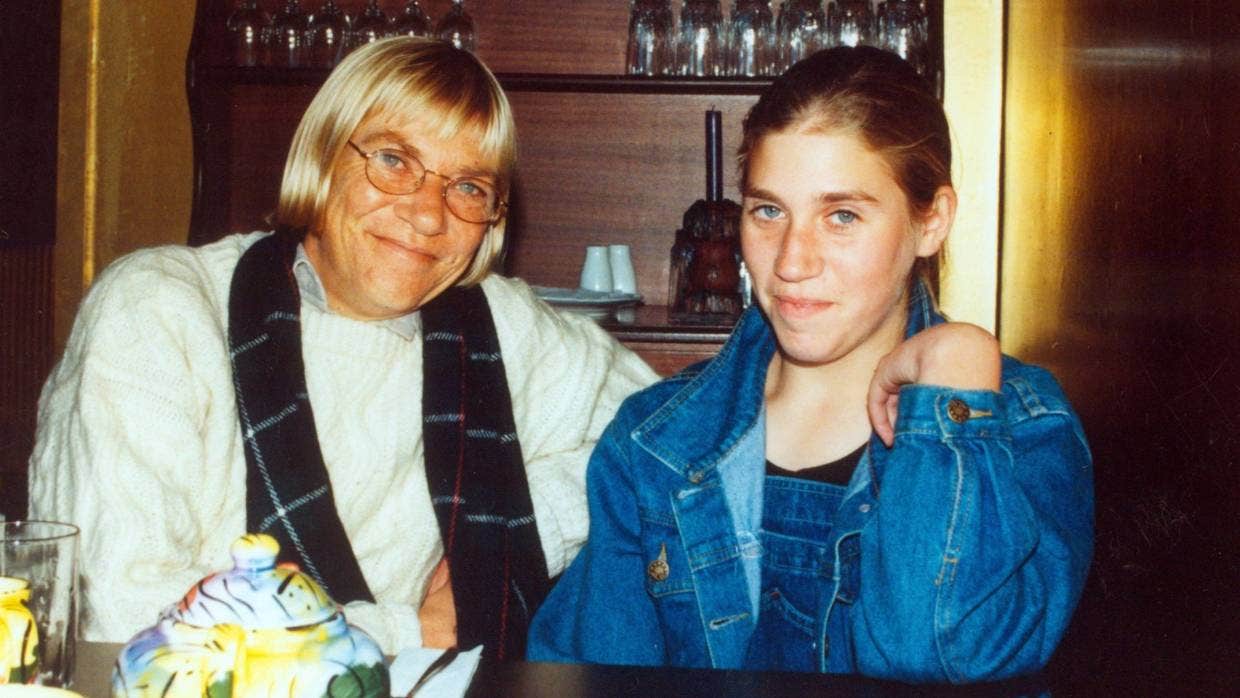 Along with a series of murders in the UK this awful crime involves a lone female walking a dog. You might have seen my other articles on this theme. Walking a dog by definition requires us to go where dogs like to go. These places tend to be more out of the way than the places we usually wander about. This is the unsolved murder of Kirsty Bentley.
Brief Circumstances.
This 15 year old spent the morning of 31st December 1998 with a friend. They did normal things, chatted, ate lunch and generally had a good time. At about 2.30pm she was dropped back at her home in Ashburton, Canterbury.
Her brother, John, was there. She called her boyfriend from home at almost 2.40pm then took the family Labrador for a walk. This was normal for her and she did not tell her brother she was going. Her route was to go down to near the Ashburton River. There were tree covered areas. She did not return home.
When her mother returned to the house from work, John, said his sister was overdue. They confirmed with her boyfriend that she had not been seen by him. Her mother, Jill, then walked a normal route that Ms Bentley might have taken.
At about 6pm her father, Sid, returned home. He then called the police and reported his daughter missing. A search was then conducted involving the cops, family and friends. No trace was found of Ms Bentley or the dog.
The following day, as the search progressed, the dog was found tied to a tree in dense undergrowth. This was in Robillard Park which borders the river and fits with Ms Bentley's normal walks.
Worse was discovered nearby, this was two pieces of underwear that were identified as belonging to the missing teenager.
Over the next couple of weeks the army were brought in and the search steadily expanded.
On 17th January two men found a badly decomposed body in a rural area 50km to the north east of Ashburton. This was near a place called Rakaia Camp Ground. They were apparently looking for a cannabis patch so were a bit reluctant to report their find at first. To their credit they overcame any doubts and informed the police of their discovery.
Ms Bentley had been killed by a vicious blow to the head. Other than the underwear, she was clothed and was in a foetal position. It is summer in New Zealand at that time of the year so the elements had not been kind to the body. There had been some attempts to cover the her with leaves, but otherwise she had just been left there.
The Investigation
A witness came forward to say they saw Ms Bentley and her dog walk past his house at about 3pm. Other witnesses came forward to describe a green or green/blue Commer van that had been seen in the area. The van is an old make and model. They were popular vans in the 60s and 70s. This van was said to have been a 1961 model and a registration number was noted.
Vehicles that were registered were eliminated by the police. The precise van type is probably accurate as an experienced mechanic was among those who noticed it.  An issue arose straight away. The registration had not been updated since 1995. Apparently this was not unusual.
The vehicle was not only seen in the Ashburton area around the time of Ms Bentley's disappearance. A similar van had also been noted near the place Ms Bentley was discovered.  I have read mention of a 'girl' observed near the van on Chalmers Avenue. One end of that avenue terminates near where Ms Bentley's dog and underwear were found. However, this girl was not the victim. She was identified as someone who had bought supplies from local sources. The van and the female were never traced.
Another outstanding issue for the cops was that Sid Bentley could not clearly say what he had been doing during the time his daughter was going for her final walk. It seems he said at one point he hit his head and got confused as to his precise movements. Son John was also considered as a suspect. He seems to have been more direct about it. He could say where he had been and accepted it was natural for the police to consider family in this way.
The area where the victim was found and the area she disappeared from had strong connections with growing cannabis. This would have meant that there were way more people unwilling to chat to the cops than similar mysterious murders. In the UK there have sadly been several. I have written a specific article on the seeming increased risk to female dog walkers. 
The cases I described did not happen in an area known for criminal activity and yet they still remain unsolved. The last thing an investigation needs is people who want to avoid interview for other reasons.
There was a theory that the scene in Ashburton was staged. The dog was found in dense undergrowth yet there had been a search the day before. So one question was, why wasn't the dog heard or seen?
A British cop called Chuck Burton was consulted. He had specialised experience of child murderers. He believed the killer was known to Kirsty. He particularly mentioned the fact that her body had been carefully placed and mostly clothed. He believed that showed some level of respect for the victim.
My Take
The suggestion was that Kirsty had not been killed in the park. Obviously that and the fact that Mr Bentley had issues remembering where he had been complicates the issue. I don't know what the ground looked like where Ms Bentley's clothing was found. The fact that this staged theory exists would suggest there were no signs of struggle in the surrounding area.
Animals when traumatised can stay very quiet. I mention this because there is a suspicion that the dog was absent from the scene and then placed there later. The reasoning is that the dog would have been found during the initial searches.
So who would kill this poor girl elsewhere and bother to stage a scene? I guess the obvious choice here would be the family. An attempt to steer cops away from the home for example.
A witness said they saw Ms Bentley and the dog walking at 3pm. No-one saw her return. If the family were involved it means they would have been likely observed up to something suspicious. Yet no witness says that they were seen or their vehicles were seen. In short it appears to be an outside possibility they were involved. No-one else was noted removing Ms Bentley and no-one was seen returning with a dog or involved in any suspicious activity later. Not forgetting that later was a time searches were being carried out. Even if the offender returned in the dead of night they could not have been sure the cops were not there. I believe that the dog was found where it had been left at the time of the attack.
As for the assailant being known to the victim and the comparative respect being shown to Ms Bentley's body, I bow to greater experience.  One thing strikes me along these lines. Reports say that earlier in the day the victim and a friend had lunch at a McDonald's.
I remember being a bit surprised at the high anticipation of a McDonald's being opened in the small town I had migrated to. People were looking forward to it. They are often a hub of contact in small communities. Unless it has moved the McDonald's in Ashburton is at the junction of two roads. This is where route 77 and route 1 meet. It is a short distance from Ms Bentley's regular walk. In addition, route 77 is a straight shot to where her body was found.
The point I am making is nothing substantial. It just struck me that Ms Bentley had been out and about in town and disappeared a short distance from where she had eaten. That location is on the best route to the place where her body was found. It should be noted though that it involved driving about 30 miles ( 50k)  by road. New Zealand has one of the lowest age limits on driving that there is. In 1998 you had to be just 15 years old.
Mr Bentley said in an interview that he knew the camp ground at Rakaia. He believed that one person could not have carried Ms Bentley to where she was found. One of the outstanding witnesses is the girl with the Commer van of course. So that would fit neatly. She and someone else drive Ms Bentley to the camp ground. That or another 'stranger' encounter is most likely.
The British cop's theory makes the point, however, that the body was treated with respect. What about a couple of young males? Not friends exactly, but known to the victim? You have a low driving age limit, a public trip to a community hub by the victim and a camp ground that most mobile teenagers would have known about. 30 miles is not far in rural terms. In addition, you have the likelihood that Ms Bentley's regular walks would have been known to friends and a wider circle of individuals.
That is total speculation of course. I don't see the Commer van and the owner not coming forward as such an issue. This was a cannabis area, I think unrelated criminality probably stopped this murder being solved quite quickly. Drug growers and users don't chat openly to the police.
It is possible that Ms Bentley saw something she should not have while walking and was abducted and killed…But for cannabis? Possible but not a high probability in my thinking. I think she was targeted for her. Maybe this was a youthful and clumsy crime.
Take Care and please if you have women you care about who like to walk dogs alone, have a gentle word with them. A dog can give false confidence. We train domestic dogs to be friendly. When it comes down to it they can be incredibly passive in the face of an attacker of human size. I can think of two cases out of the half dozen I know where the dog has been a big one. It made no difference though. I humbly suggest that women look at a walk in the woods as if they were walking alone and take precautions accordingly.
Cheers
Tim
In 2018 in North East Australia another young woman was savagely attacked while walking her dog. This case has international elements and is ongoing. Toyah Cordingley.
Another case springs to mind. A year before the killing of Ms Bentley a 14 year old Devon girl was murdered while walking her neighbours terrier. Kate Bushell.
https://www.stuff.co.nz/national/crime/120151295/killer-blow-the-kirsty-bentley-murder-mystery
https://en.wikipedia.org/wiki/Kirsty_Bentley#Early_life
https://www.abebooks.co.uk/first-edition/Kirsty-Bentley-Mother-Writes-Love-Jill/19607802987/bd