A Family Search For Truth: The Case of Rebekah Barsotti, Montana, USA, 2021
A young woman is in a Montana beauty spot with her dog. A much loved dog. Then all goes wrong and the pair are swept away in the waters of the Clark Fork River. However, this tale is shadowed. It is set to a backdrop of domestic violence, trashed missing posters, threats, fruitless searches and fear. Is it really a simple story of a tragic death? See what you think.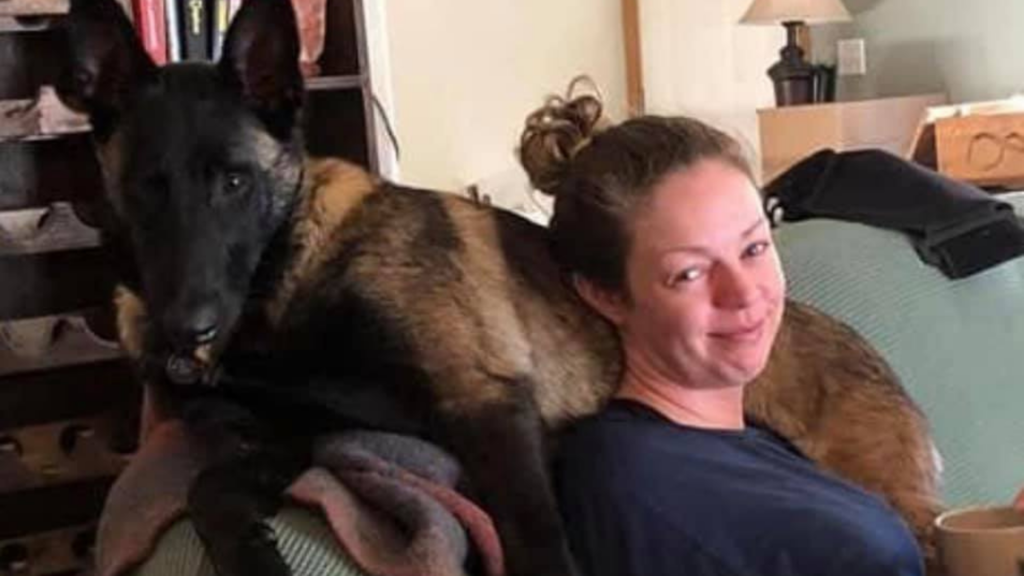 NB: Rebekah's body has been recovered from the river and formally identified. As of today 3/6/2022 no cause of death has been determined.
First, let me state my priorities. This 34 year old Montana lady is missing. She needs to be found. Nothing should detract from that reality. Where is she and what happened to her? So here are the bare details to start with. Maybe you hold that little fragment of information that can give the family some peace. Further down I go through all I could find out about the case so far and there is a lot of it.
March 2021
Rebekah Barsotti calls the cops from her Superior, Montana home. She said she had been assaulted by her husband David. The police arrest him and according to family sources he spent three days in the local jail. He was charged with assault and released. An order was issued that protects Rebekah from him but places a legal restraint on them both. They needed to keep their distance from each other.
As a result Rebekah moved out and relocated to Missoula an hour drive to the south west. She and her dog Cerberus are said to have been making a fresh start.
2nd July: Banks Of The Clark Fork River
According to a PI, who now works with Rebekah's family, her car was vandalised on this date. Apparently she and Cerberus had been in the river swimming when someone threw rocks at them. When she got back to her vehicle the windshield had been smashed. There was only one other vehicle parked there. She left a note of complaint on this van. She also took a photograph of the licence plate. In the note she made it clear she would report the incident to the law.
She never did for some reason that is unknown.
Later private investigations seem to rule out the owner of the van as being responsible. In fact the driver had been wondering what it had all been about until spoken to many weeks later. This incident was in a similar place to where she parked on the day she went missing. This time it was close to Missoula.  It was at Council Grove State Park. So who was it that was targeting her on that day and why?

This incident ties into another that is said to have taken place on 11th July. On that occasion Rebekah was in a Walmart in Missoula. A short distance from her, in the same isle, was a man who was known to her. She is said to have looked decidedly nervous.
( the man has been named but as it is a third person source I won't print it here) 
20th July 2021, Superior.
At about 2.15 pm Rebekah is said to have been at The Town Pump which is located on Diamond Road. On the other side of this location runs the I90. The Town Pump is effectively a convenience store/ gas station. She was there to collect some of her personal belongings from a third party. The husband and wife relationship had remained acrimonious and the court order was still in place, hence the need for this other person to hand over the items.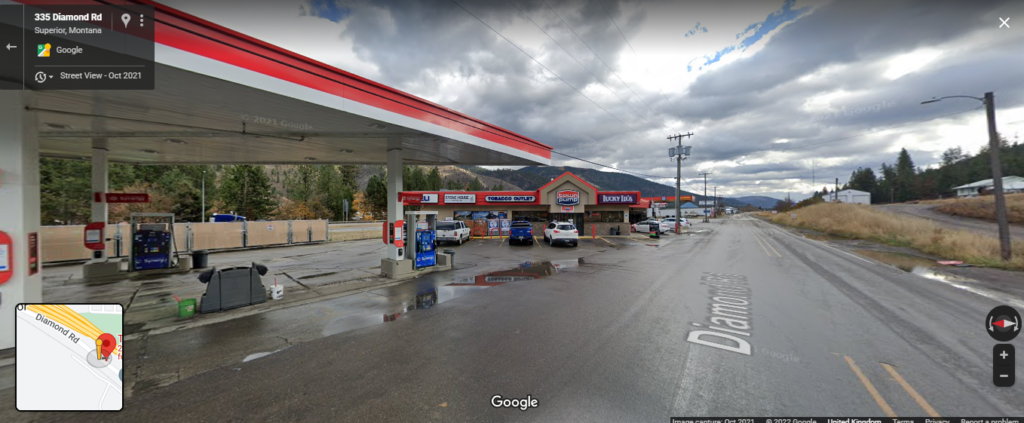 This third party has said that a tote bag containing the items was given to Rebekah and she and her dog drove away.
3.15 pm
It is reported that Rebekah was on a beach type area a 30 minute drive south east of the Town Pump. She was exercising and training her dog on the north bank of the Clark Fork River, apparently this is confirmed by a video she took of the spot on her cell phone. Looking at Google Maps the time and distance fit with when she had met the third party at the Town Pump.
Later That Afternoon
This spot can have a lot of visitors. A 911 call was made by someone finding items belonging to Rebekah on the river bank. Her car was found in what is described as a highly used truck stop on the I90 called the Alberton Rest Area Eastbound. It is also a place where people access other leisure pursuits such as fishing.
ID, a credit card, a baseball cap, a leash, her keys and her cell phone were on the ground. The witnesses are known to the police but the cops will not name them. The official word is that they were a group from Oregon. The PI that the family are working with is called James Terry. He pours some doubt on that account which I have dealt with below.
The police noted that Rebekah's car was parked at the truck stop and they made a cursory search. Inside was noted the tote bag and her pistol. There were no indications as to where she had gone. She has not been seen since.
Searches were conducted on the water and there seems to be controversy as to how much searching was done on land. It was the Highway Patrol that took the initial call and they handed it over to the Mineral County Sherriff's office. This is a very small police department. As there was no initial sign of Rebekah, help was requested from Missoula police. In the coming days all efforts to locate this missing woman and her dog failed.
26th July 2021
Cerberus, a year old Belgian Malinois, was found dead six miles down stream on the river. A veterinarian examined the dog and believed he had drowned. It was said that due to the state of decomposition further tests would be inconclusive. Cerberus was cremated.
This added to the theory that Rebekah had seen Cerberus get into difficulty in the river. She had shed some vital belongings on the bank and had gone to help him. She in turn had been unable to exit the water and had therefore drowned.
Sherriff Mike Toth has given at least one interview where he describes the river as being highly dangerous at the place where Rebekah and Cerberus are thought to have been. In contrast Rebekah had been there before and reportedly swam with the dog without incident.
( some accounts say Cerberus was found 10 miles downstream. 6 miles is the distance I heard the PI state in an interview)
There Ends The Short Version
If this is all you have time for then thank you. The missing poster featuring Rebekah gives details that might help you recall something. There is a lot more to this story below, but if nothing else please have a look at the the image and if you can help give it your best try.
The witness who called in to say they had found Rebekah's property was of course recorded when they spoke to the dispatch. This audio file is retained by the police department. The issue is that there is, apparently, no legal reason this call cannot be shared under Montana law. The main driving force behind the search for Rebekah is her immediate family. The main spokesperson in the early days was her mother Angela Mastrovito.
The Mineral County cops say that the caller was from out of state. They say they do not want to release the details because they are concerned that if the caller is identified they would be contacted by Rebekah's family. This in turn might be seen as harassing a witness.
Most of this I get from a Mineral County meeting in November 2021. Present were Rebekah's mother, Sherriff Toth and others. Link below.
During the exchange between the cops and Rebekah supporters it became apparent that there was a lot the family were not happy about. They feel that time was wasted before searching on land and that the connection between cops and David Barsotti is too strong. They also feel that not all available resources have been used to find Rebekah.
On the other hand Sherriff Toth stated that this was not the case and appropriate action was taken given the scene they were presented with. It looks to them that it is highly likely Rebekah was killed in an accident and she remains in the river. He says that all leads have been followed including finding out if David Barsotti was involved. His department is more than willing to check out any issues and evidence that comes up as the missing person case develops.
Some of the points the police made, like resource issues and procedural priorities, I had sympathy with. When it came to the 911 call I must confess I don't understand the need to keep the audio a secret.
If it is an Oregon witness then the family would hardly be able to 'harass' anyone. Also why would they? If all this person did was stop off at a beauty spot and find the items there would be very little conversation to be had. I grant you there would be some questions in order to clarify a few things. That said, how would that put anyone under undue stress?
These are just random thoughts yet I have some basis to them. There is no criminal investigation. This is a missing person case and the family have exercised their right to enlist help from outside. It seems fair that this help should be allowed to talk to the witness who made the call.
James Terry runs a PI outfit called Gulf Coast out of Mississippi. He has gone on record with a radio station saying he has information that this witness was not from Oregon. He urges the Mineral County Sherriff's Office to release the audio to put this issue to rest.
If his information is correct it does not mean the police are necessarily hiding something just to obstruct finding Rebekah. I wonder if the caller is local and didn't want to be named. Emotion is now running high with divided loyalties and theories. The big problem is that while any mist surrounds this 911 call these emotions will not go away.
The Neatly Piled Items
There seems to be conflicting accounts of how Rebekah's property was left on the river side. I have heard family supporters say the cell phone etc was left too neatly for it to fit with a sudden run into the water to help Cerberus.
I heard Sherriff Toth say that the ID and credit card were ( for example) placed neatly by the witness who found them. They had picked them up, realised what they were and they then placed them down.
Also I have heard that Rebekah had been know to get in the water and throw the stick for Cerberus. So in this last scenario it would make sense she arranged her items neatly before going to swim in the river.
One discussion was that it seemed unlikely anyone walking on a shore line would see discarded items like those and even think of calling 911. After all you go on a beach and people leave all manner of things on dry land while they swim. I agree, but if I came across those items and no-one was in view I might would start to worry and maybe call it in.
The Police Investigation And Search
The responsibility for trying to find Rebekah fell at first to Mineral County Sherriff's Department. These cops are based in Superior and we are talking about a small department that does not have any specialist investigators. The deputies were soon helped by detectives from Missoula.
In that county meeting I watched Sherriff Toth state that Missoula undertook the investigation on the land while his office co-ordinated the search in the river. During the same meeting Rebekah's supporters questioned why other resources had not been used in the early, crucial, days of the search. Primarily they mentioned the Montana Department of Criminal Investigations.
Sherriff Toth said he believed that the Missoula police had the same resources and as they had been used he had not seen the need. He did say he had been in contact with other departments including the Montana DCI and Fish and Game.
Rebekah's mother requested the police investigation be reviewed by the DCI and at the conclusion of the meeting it was agreed to approach them about this. I have read that this department has said they would conduct just such a review.
The Drowning Theory
The Clark Fork River can run fast and certain sections of it are well known for white water rafting. The Alberton Gorge is 12 miles west of where it is likely Rebekah was exercising her dog. This is noted as a good rafting location. I only mention it for those who, like me, do not know the area.
In the meeting the Sherriff said he believed there was evidence that Cerberus had been playing in the water.  The theory runs that Rebekah responded to her dog getting into difficulty. She then went into the water to help her pet. As a result she drowned.
The above video is a silent view of the area in question
I would like to make it clear that from what I can see the family and the PI freely admit that this could have been the case. James Terry, as recently as three weeks ago, said he gave it about a 50/50 chance that this is what had happened.
However, there are several reasons for not accepting this as a certainty. The main one is that not only were the initial water searches negative but the family paid for further efforts. These were not haphazard or carried out by amateurs. Cadaver dogs and drones were used. In addition, specialist equipment such as sonar was deployed.
A stretch of water was scoured from the truck stop to a dam at a place called Thompson Falls. That is a distance of  more than 60 miles by river ( 100km). Even in my native UK we have river systems that can mean that a body is never found. That said a question mark will always hang over this case until some sign of Rebekah is recovered. More often than not, when someone goes in the water, they will turn up just as Cerberus did.
The Sherriff mentioned in that meeting that when tracker dogs were used to scour the initial scene they indicated a scent trail that led to the river bank.
Further searches are being organised by volunteer groups and if you feel you can help below is the link to a Go Fund Me page.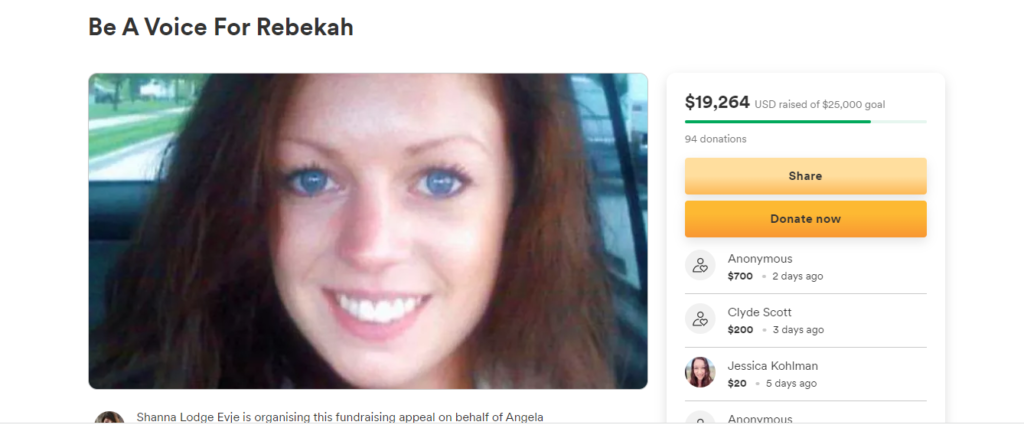 Complications And Other Theories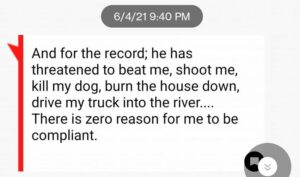 The above image is displayed on a Facebook page dedicated to finding out what happened to Rebekah. It is a text message she sent to a friend. As you can see this is dated in June 2021. Does this prove she did not drown in an accident? No, however, it does present issues with accepting accident as a slam dunk solution.
We do have a dead dog and even though her vehicle did not end up in the river the cops think she did a month later. In addition this happened after Rebekah had picked up property at an appointed time and place back in Superior. A time and place that could well have been known to her estranged and allegedly violent husband.
In a video (from another date) Rebekah leaves the phone recording as she goes into the house shortly after the domestic violence incident. David Barsotti is not there as it turns out. The footage does indicate her fear. She readies her pistol and at one point says that she is 'clearing the house.'
New Details Released In Radio Show Interviews
About three weeks ago in an interview the PI chatted first with a local host and then went on a YouTuber channel. I have put links to it all below. To summarise, he is of the belief that David Barsotti has more information about what happened that day than has become public knowledge.
Mr Terry alleges that David Barsotti could well have known where Rebekah would be after she collected the items from the third party on 20th July. He says he has a witness that has given a statement in which, she says, she heard David Barsotti state he was there when Rebekah went into the water. The PI further says that damage to missing posters and even threats to Rebekah's family all come from David Barsotti.
In a second interview things get a little more complicated. Mr  Terry said there had been a recent development. A local to the area called Jay Bailey had given the family a statement.
He said that he was fishing on the river several miles from where Rebekah's property was found. It was on the day she disappeared. He saw a black dog that fitted the description of Cerberus. It was running down an embankment 'chasing' a raft on the river. In this raft were two men and another figure was laid on the floor.
Mr Terry is adamant that not only is this pawn shop owner a good witness, but that he is clear in what he saw. He then went on to say that recently other people had also given information that provides doubt about the accidental drowning theory.
The radio show host, Tommy James, then asked the PI about Rebekah's estrange husband. Mr Terry was clear that he was not anti David Barsotti. He was simply very determined to find out the truth for the family of Rebekah Barsotti. He had some more interesting things to say.
He repeated his belief that Rebekah had been attacked 18 days before she disappeared in this rock throwing incident. If that was the case, and we add the witness testimony of this Jay Bailey, then a whole different light is shone on the idea of this being no more than a tragic accident.
The radio segment was wrapped up with an appeal for any other information and an interesting challenge was  placed down. The PI offered to talk over all his points with David Barsotti and his lawyers live on air should they want to take him on.
As far as my thoughts go on these incredible claims:
On the one hand Mr Barsotti is called a pathological liar ( Mr Terry's words). If that is the case can we take it seriously if he claimed to have been there and Rebekah fell in the river?
Also the cops say that Mr Barsotti had an alibi for the time that is critical to this. I don't know what it is but that is their position. Any alibi would have to be demolished first for the other factors to become anything significant.
Last Thoughts
So there you have it. If you look at the links below and dive deep into this you are looking at a couple of hours viewing. This could be a simple, tragic accident. It could be an accident that has been complicated by good or bad intentions when it comes to who said what and when.
Another possibility is that someone carried out a random attack on a lone woman who was walking her dog. An attack by someone who has nothing to do with any of the parties involved so far. The pages of just this website can give testament to that.  For example you have: Julia Webb, Toyah Cordingley, Kirsty Bentley and Kate Bushell. Many more names and faces run through my head.
If it was my family I would be doing the same as Rebekah's. I'd not accept any probable scenario until there was really good evidence to support it. Accidents do happen and so do murders that at first look like accidents.
I'd welcome any thoughts on this and if you have personal knowledge of the case please feel free to contact me on the below email address. Whatever the conclusion of this case is, I bet it will not be a simple one.
Meanwhile I wish the the family well.
Tim
tim@reasonedcrimechronicle.com 
You can find the latest radio interview on the FB page below
https://www.facebook.com/Find-Rebekah-Barsotti-107832698267521
Here is the find Rebekah page
https://findrebekahbarsotti.com/?fbclid=IwAR0tb2bojSrboH5Z-qJaCY-YHT6I3YSHkN9feHYBkmuXif5zVmhL8dWVuCY
If you have any information contact:
James Terry PI on 813 993 2242
https://www.facebook.com/TheMineralCountySheriffsOffice
https://www.ci.missoula.mt.us/332/Police-Department
Below is the meeting I have referred to. The relevant part is about 30 minutes into it.
For the first radio interview please click below.
Rebekah Barsotti Missing Interview with James Terry
https://www.kpax.com/news/montana-news/body-found-in-superior-identified-as-rebekah-barsotti