Mary Elizabeth Rico-Webber: More Murder Than Missing?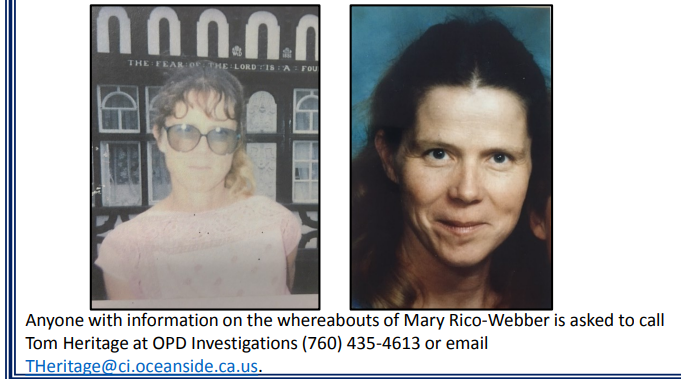 This lady was 50 years old when she went missing on 2nd April 1992 from her Oceanside, California home. At first she was seen as simply missing. A friend had called to collect her for a planned trip but there was no sign of her. When she had not been heard of for a while the cops were informed. After about nine days a neighbour swore he saw her in the background during news coverage of an anti death penalty protest. This was later believed to have been a mistake on the neighbour's part.
Her brother drove to check her home and that is when things turned sinister. The rear patio doors were smashed and the telephone lines had been cut. She has not been seen since then and there has been no progress in the case. There was some blood found on her bed, but how long it had been there would be a guess. In fairness, people who knew this lady said she did not rate house cleaning as one of her priorities.
Her car was at her address as were all of her necessary documents. Her purse and wallet were found in her bedroom. Most notable to me is she was preparing a gift for her niece. There was an upcoming wedding. The gift was out and ready, yet the event went by without any word from Ms Rico-Webber.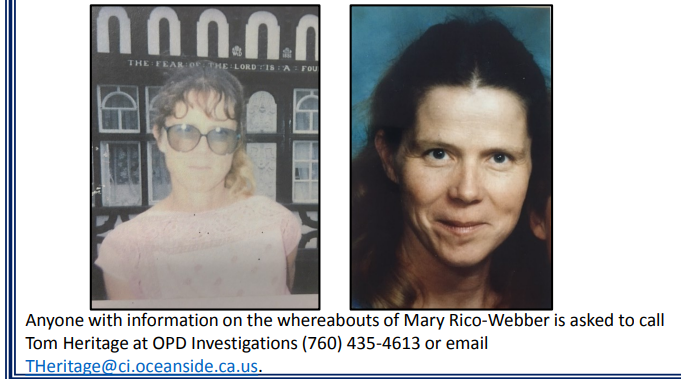 She used to work a Mission Elementary School not far from her home. She stopped working due to some issues with a divorce she had going on the previous year. While working there she got to know a lady called Margaret Yossa. Ms Yosser disappeared in 1994, her remains were recovered from scrubland six months later.
Ms Yosser had visited a Ralph's store (grocery place) after which she vanished. Ms Rico-Webber had done the same the day she disappeared. I have outlined, in the case of Ms Yosser, the recent arrest and extradition of a man from Mexico. He is charged with stabbing to death a 54 year old woman who lived not far from both of the ladies we have been talking about. This was in 1994. The age of his victim back then ( alleged of course) was 54 years. He was only 32 years old at the time.
Take Care
Tim
Just a thought. BTK ( the serial killer) cut phone lines as part of his method. I also noted it in a Reno double murder  we have covered. Click on the names if you want to check that out. Albert and Joan Musalo
https://www.ci.oceanside.ca.us/documents/Police/Webber%20Missing%20Person%20Flyer.pdf