Unsolved New Zealand Murder of Katrina Jefferies, 2005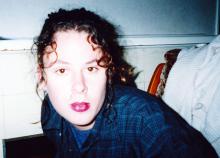 This 22 year old woman was found murdered in Auckland's Waikowhai Reserve, Hillsborough, on 12th July 2005. There is now a huge reward but given the passage of time will it be enough to solve the case?
Brief Circumstances
Ms Jefferies was last seen on Sunday 10th July 2005. She left the home she shared with her mother and infant son at about 8pm.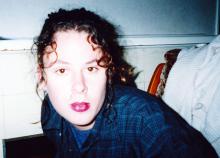 In the early hours of Tuesday 12th July a car was recorded on CCTV driving down Waikowhai Rd. The car was also observed near a gas station on Waikowhai reserve. A lone male was walking away from it and the boot lid was raised.  The vehicle is described as dark red or burgundy in colour. The terrain is sloping bush to the sea though at its top is a busy area on Hillsborough Rd.
Ms Jefferies was found at the bottom of an embankment. She was wrapped in a tarpaulin and a yellow rain jacket. Also present was a piece of plywood and a painting.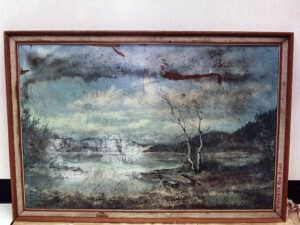 Police have been quite tight lipped about how she died. At least in the sources I could access. They said they did not believe she had been sexually assaulted and that local people in the Roskill area knew more than they were saying. In addition, they said they were not looking for a murder weapon but would not confirm Ms Jefferies had been strangled. The place where she was found was only about half a mile ( 1 km) from her home.
Police have posted a $100,000 (£50,000) reward and appeal for anyone who knows what happened to step forward. Ms Jefferies was described as being partially clothed when found. The cops are still looking for her clothing and cap. In particular they say she left home with a cassette operated Walkman which is also missing.
In a hearing, a coroner, agreed that the case was that of a homicide and suppressed the cause of death. This was done to sift out any false confessors. In a statement to the press the officer in charge of the case said that Ms Jefferies had probably been killed on the Monday night or early Tuesday morning. She led a rather chaotic life and her mother had said it was not unusual for her to stay out overnight.
My Take
Surprisingly none of the items found with her body seem to have helped much. It appears that there may be a group of people keeping the truth under wraps. Ms Jefferies had connections with drug use and minor convictions along those lines. It is often surprising that you can have a murder like this and not get a fast result. You have a young woman on record for minor offences in connection with drugs, surely any good copper will find out what happened in no time?
Having done the job I can tell you they may well know who did what. Rare for me but I will say I would be amazed if they didn't know to about 90%. Proving it is a different matter. The police believe she was killed someplace away from where she was found. That would narrow down the enquiry to that circle of friends and associates. Throw in the use of drugs and one or more is bound to have talked. Often the problem is they can talk but they may have 'heard' it from someone else. That is not exactly slam dunk evidence.
I read an account of a witness who claimed to have been able to place the jacket, tarpaulin and painting found with Ms Jefferies. She claimed the police had not taken a statement. I cannot explain that with any certainty. They might not have taken a statement if they already knew where these items had been and it was different than this witness was stating.
The case is as cold as can be as far as the public domain goes. I am intrigued by them being so guarded about the cause of death. I suspect it has more significance than merely of use in weeding out false leads.
Anyway, this young woman left a child, lost her life and that is always wrong. I hope all involved find peace soon.
Cheers
Tim
Another murder that had connections with this area is an intriguing and rather alarming case. Click here
https://www.stuff.co.nz/auckland/6005622/Katrina-Jefferies-cold-case-remains-unsolved