New Zealand Unsolved Murder: Clare Hills, Auckland, 1998.
28th April 1998 in New Zealand. It should have been an ordinary day for Clare 'Lisa' Hills. This 30 year old single lady was manager of McDonald's at Auckland Airport. She had had two days off broken by a phone call from a co worker at about 9.45 pm the night before. It was a routine call about stock sharing with another store. That was the last confirmed time she was known to be safe and well.
Her day would begin at the torturous time of 02.30am when she would get up and get ready for the 25 minute drive to work.
Ms Hills lived in a flat in Sarsfield Street, Herne Bay, Auckland. She would probably have left the building at 2 am and got into her black Mazda Familia and set off. Something happened either there or en route. She was found burned and dead in the car hours later. The scene was Mangere Mountain. This appears to be a park type area around a hill. It is only 5km (3 miles) from her destination. She had injuries including damage to her neck. Evidence suggests she had been sexually assaulted. A DNA profile exists that the cops believe is from the offender.
Many theories were looked at including an ex partner and a serial rapist. They were cleared by the DNA evidence. A search of the New Zealand database drew a blank as did a search of Australia's.
Clare Hills had originally been born in England but emigrated with her family when still a toddler. At 15 she fell in love with a boy her folks did not approve of. She ran away and eventually made her way to New Zealand. She had been married until about 18 months before her death. Just before she died she moved job from McDonald's in Grey Lynn to the airport.
Later, Anna Leask of the New Zealand Herald wrote an article on the 20th anniversary of the killing. It is described as a true whodunnit. This is an active case and remains unsolved at the time of writing.
Herne Bay and Mangere would have been very quiet at that time of the morning. That said there was a witness there at about 6.15 am. She saw a man moving around Ms Hills' car. Next thing it was up in flames. The offender then came face to face with the witness. He ran off and she went to a nearby house and called the police. It was only later she was told there had been a person left in the flames.
The witness, who from what I can make out was on an early morning run, gave details that resulted in this image of someone the cops would like identified: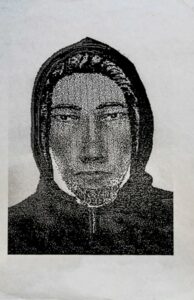 The articles I have found to research this piece are few and far between. If you would like to read more I think it only fair you read the New Zealand Herald account, link below. One thing I did notice was that an area on the route Ms Hills would have taken is Hillsborough. There is even an unconfirmed witness account that her vehicle was seen on an access ramp to the motorway there.
I wrote about the unsolved killing of 22 year old Katrina Jefferies in 2005. She lived near Hillsborough. Ms Jefferies was found in undergrowth in Waikowhai Reserve. This is only 10km (6 miles) from where Ms Hills lived. I make no link other than the location. On the surface they are different circumstances in many regards. Both, however,  have families waiting for answers and killers that should be behind bars who are walking free
Take Care
Tim
https://www.nzherald.co.nz/nz/claire-hills-murder-cold-case-witness-tells-of-coming-face-to-face-with-killer/WGMITTBKODCRA4EXK7LDB5J3RA/