The Suspicious Vanishing Of 14 Year Old Shelby Wright, Washington, USA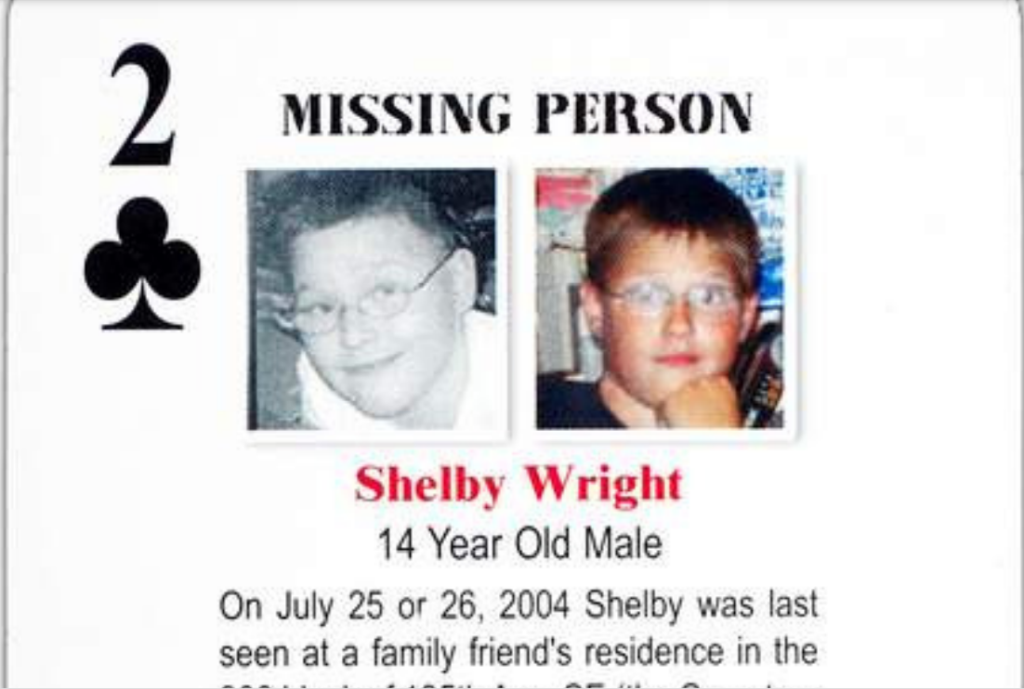 This lad was said to be a bright star when it came to gadgets and tech. He had an adult friend who he visited a lot. Then one day he vanished. He has not been seen since  27th July 2004.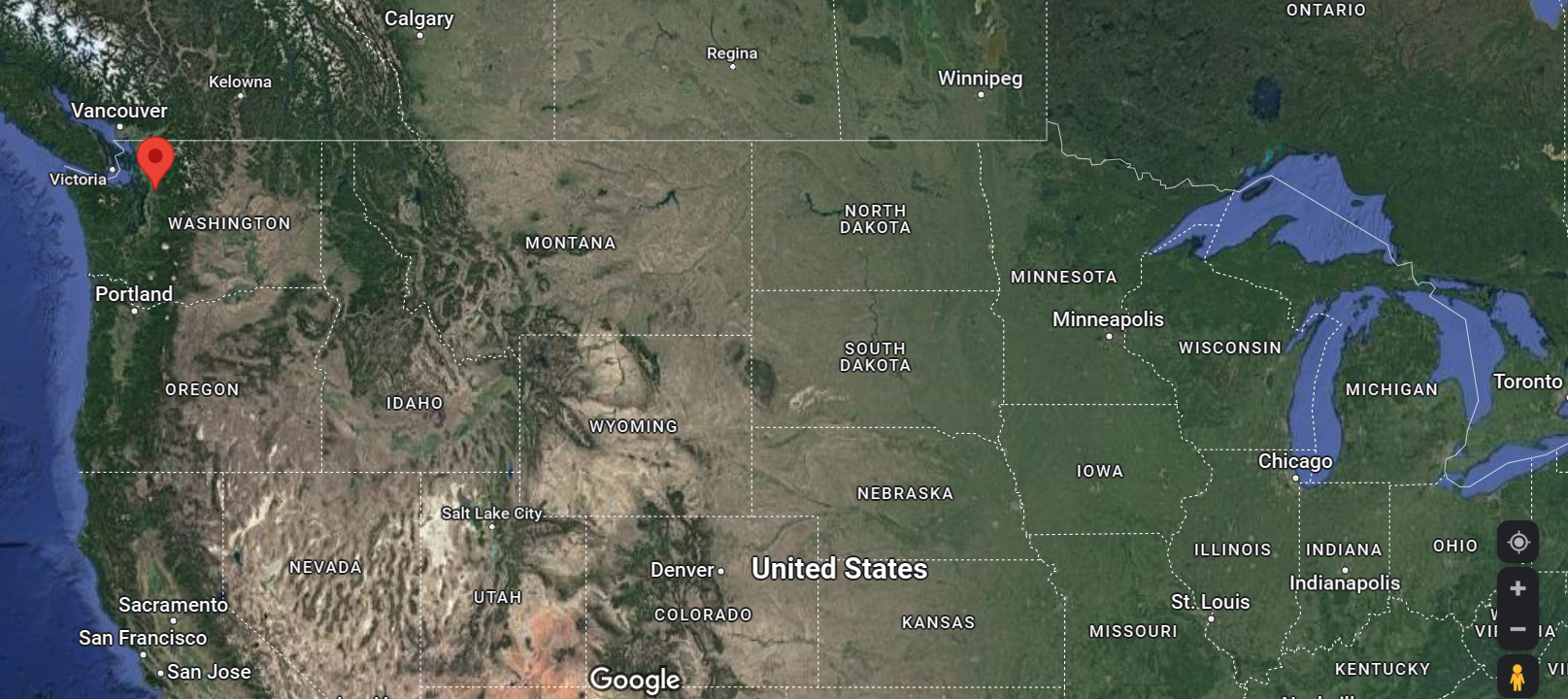 The boy lived with his mother close to Seattle Washington, USA. On occasions stayed with other family. The police mention it may have been the 27th when he was last seen. However, I have seen 25th and 26th mentioned.
There are several key addresses mentioned and it confused me for a bit.
Mother's Home ( and his normal one) is on the outskirts of Seattle.
His Uncle's place on Virginia Street in Machias. He had been staying there to assist in caring for his great grandmother.
Family and personal friend of Shelby's, Rob Wolf, had a place at 900 135th Ave SE in Machias.
Machias is 11 miles north of his mothers/his home.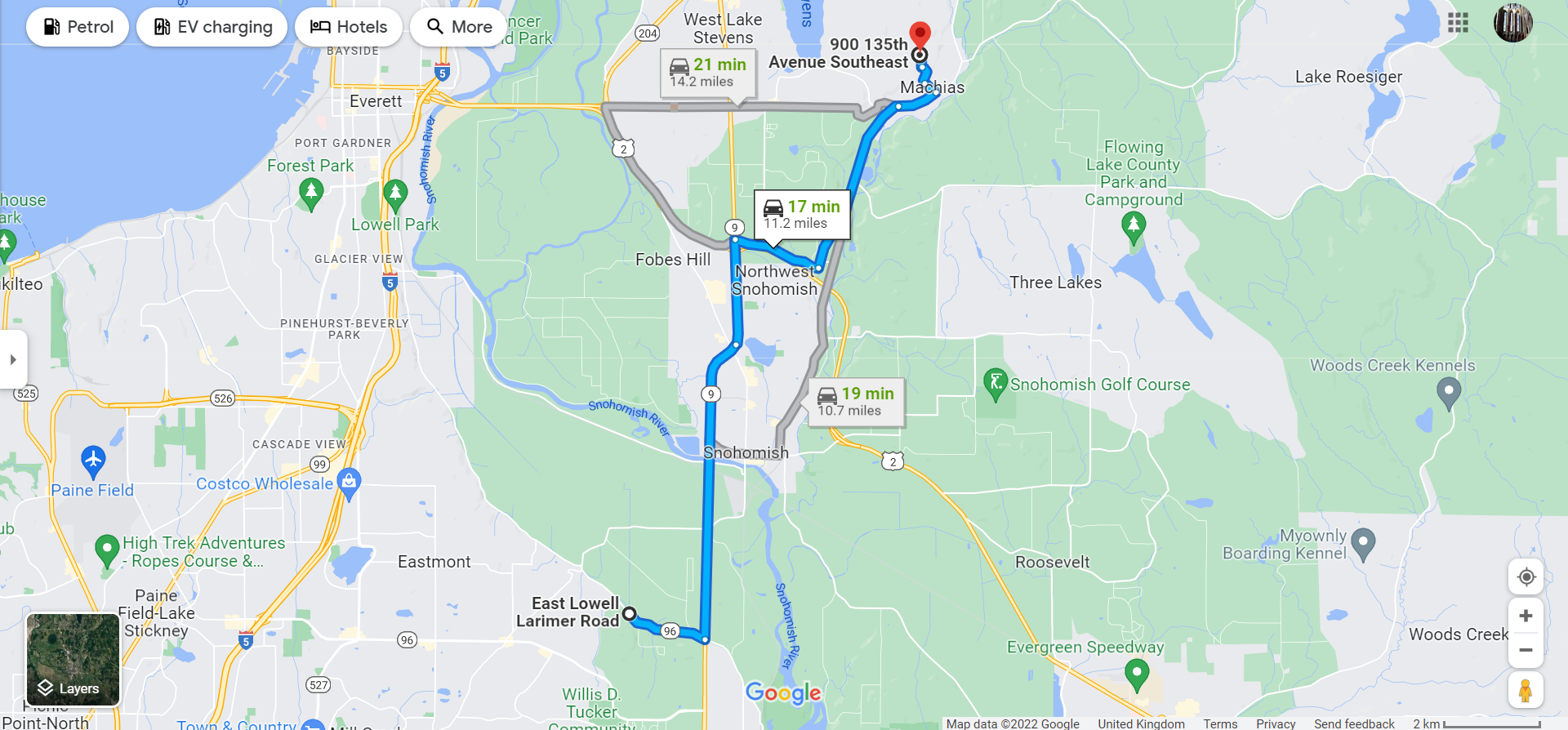 What is reported by the cops is he left a friend's home at 900 135th Ave SE in Machias to a destination unknown. This, according to his mother was a normal habit for him. He had a scooter and he zoomed about on it visiting people.
The boy had a gift for gadgets and computers. He always had his laptop with him. His mother speaks about this bright child in a Fox 13 article from 2013. In the text, Yvonne Wright, Shelby's grandmother said:
'I would like to see justice. But first and foremost, I want to bring Shelby home. They could be anonymous. I could live with that.' 
The adult friend who appears to have seen him last owned property on Cemetery Rd, which seems to be the common name for that part of 135th Ave. It was on Rob Wolf's property that the child's scooter was found. His laptop was never recovered. I noticed that surfing the internet and chat rooms is mentioned as one of Shelby's pastimes. ( source Charley Project link below).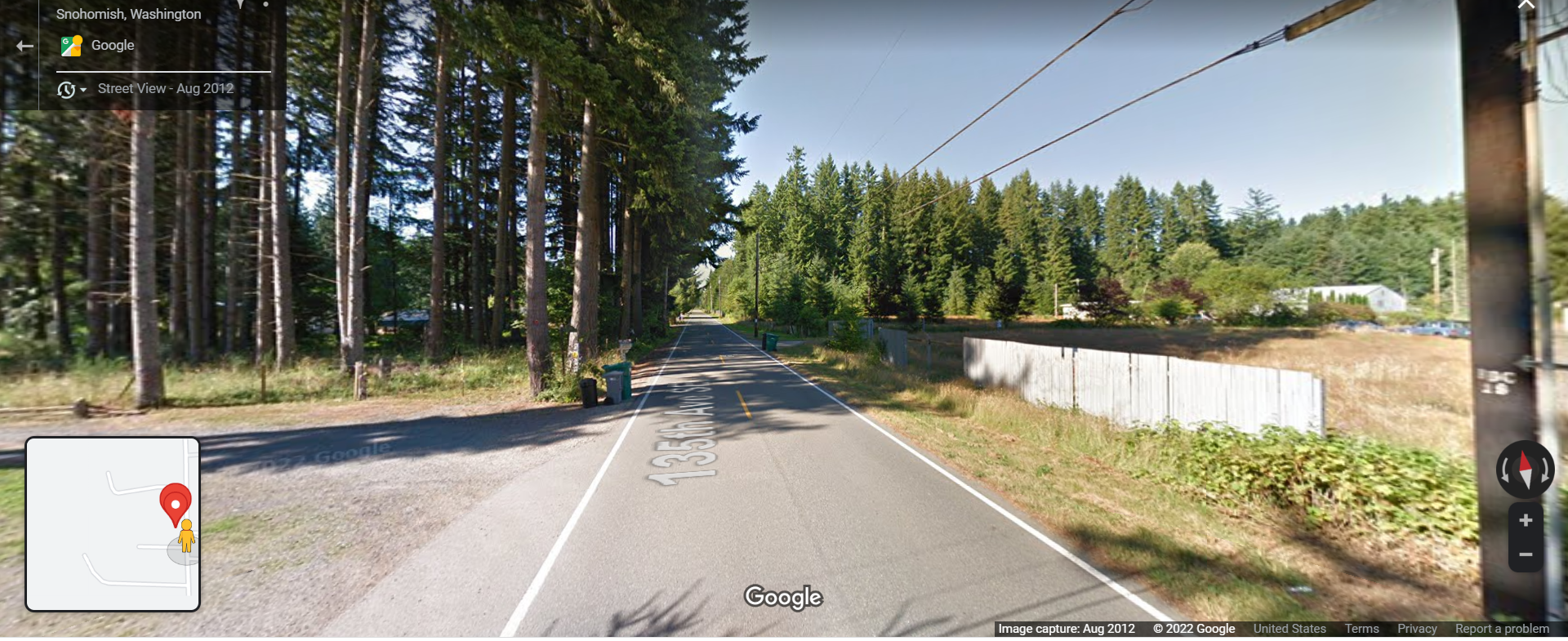 He should have landed at either his mother's or his uncle's home at some point. Looking on Google the area is a mix of housing with lots of open spaces it would be hard to find many witnesses in those more isolated spots as we know.
The Investigation
What can we say here about the vanishing of Shelby Wright?
An unusual feature is that he was spending his time with an adult friend. However, his mother said that most of his formative years had been spent exclusively with adults. He was a kid who related better to older people. This is not me being naïve, this is just me trying to be painfully balanced.
Rob Wolf is dead now. The cops searched his property a lot. They talked to him and it seems they focused on him to a good extent. After his death the police went over his property. Nothing has been found to implicate him or his girlfriend who rode a bicycle to Shelby's mothers home in an effort to find him. It was her journey that sparked the search for the boy. Though Rob Wolf's place was not the only one to have searches made it remains the one that news sources mention a lot.
The Snohomish cops are one of the law enforcement outfits to adopt the playing card scheme for unsolved cases. Their cold case unit is reported to have two full time review detectives. There are 65 active cases listed. Some have gone on those cards that are distributed to inmates. At the bottom of each case description is a contact number so that anyone with information can call it in. I have nothing but praise for them trying.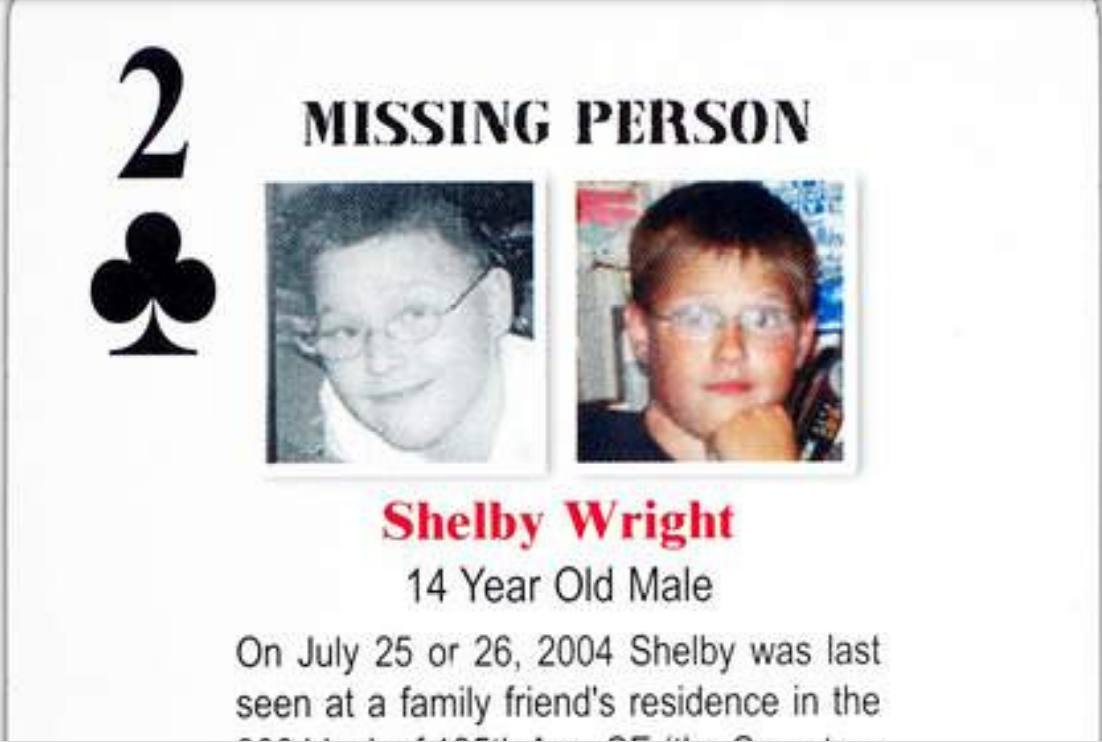 Loose Ends And Loose Thoughts
At a glance this lad looks like a free spirit just going about his business in the holidays from school. The family was attentive in that they kept in touch with him and the various addresses all seem to have had a purpose. He had been helping out at his uncle's home in Machias as a grandmother was in the early stages of dementia which explains why his area of operating was 11 miles north of his home address on the outskirts of Seattle.
I am confused by the dates he was last seen. The cops have put 26th/ 27th yet in a couple of places it is said a deputy gave him a ride to his mother's home on the morning of the 27th.  His mother is reported as saying she saw him there the following day. He was fixing his scooter. That would be the 28th then. ( source Herald.net 2013).
'A sheriff's deputy had given Shelby a ride to his mother's house in the early morning of July 27. The next day his mother saw him working on his scooter'.
If the deputy was sure it was the 27th and his mother saw him on 28th why are the dates he was last seen in dispute? It also means that he travelled back that 11 miles, or at least his scooter did, for it to be found on the Wolf property.
Maybe you can clear that up for me, it looks likely to be a mix up in the reporting.
The main substance of the sad tale is that the lad is still missing and the police response indicates they think something foul happened to him. The Wolf property was said to have been a bit of a junk yard and drug use is mentioned. To what extent that was I don't know. In the Herald article it also says that a friend of Rob Wolf reported seeing a suspicious looking man on Cemetery Rd close to the property around the time Shelby went missing.  This was in the afternoon of the 27th. Shelby was supposedly seen by this witness outside the Wolf property at the same time. Police are said to have interviewed him.
What are the possibilities here?
Similar to cases in the UK like Sean McGann ( who even looks like Shelby) to Kevin Hicks there is the chance they were talking to people without the knowledge of their family. People who would do them harm. Shelby frequented chat rooms, we know low life target bright chatty kids all over the net.
That doesn't sit so well here though. This was an area with lots of quiet spots and an independent 14 year old on a scooter. It is just as likely to have been a snatch on the street with the exception of one detail. The scooter.
It was found on the Wolf property. So the boy and his laptop vanish and his prized scooter was left at the house he was last seen at? What does that prove? Nothing really. It might have been the case that his mother's observations of him fixing it were right but on the wrong date. If it was faulty the kid could have set out on foot. Why not leave it at this good family friend's house. Shelby could have been intercepted on the road between there and his uncle/great grandmother's home less than a mile away.
The uncle/great grandmother's property was dug up at one time and the Wolf property was treated to the same though the Wolf place has had three big searches as far as I can see. The cops must be keen on that angle.
What bothers me is that if Rob Wolf was involved why make the laptop disappear but leave the scooter? I mean if the boy died by accident or was killed there his body has been well hidden. Likewise the scooter could have been hidden too. That would have alleviated the suspicion on Rob Wolf somewhat. Shelby was there, he left. That would have been it.
As for the sighting of the suspicious man I cannot see any mention of a description being circulated. I suspect I know why.
I'll leave it there, the links are below. I have also linked to the UK child cases we have written about and the evolving North American one. What a world eh?
UK Child List, Unsolved Murders And Suspicious Missing 1960s-2000. CLICK HERE
North American List. 1960-2017 CLICK HERE ( about to publish)
Take Care.
When it comes to the internet no parent is ever nosey…they are just doing their job
JohnT
https://snohomishcountywa.gov/346/Cold-Case-Cards
https://www.q13fox.com/news/missing-mystery-teen-boy-vanishes-all-thats-found-is-his-scooter