The Dark Side To Dundee's Templeton Woods
This little haven of 150 acres is a 15 minute drive from Dundee. It was originally planted in the 19th century when it was part of the 1st Earl of Camperdown's estate. It looks like a nice place.
We first came across mention of it when looking at unsolved dog walker murders. In August 2017 a woman was walking her hound in those woods when she was attacked by a man wielding a dumbbell. Robbie McIntosh was out on parole. Years before he had murdered another dog walker in a separate Dundee park. Fortunately passers by came to Linda McDonald's aid. Her head injuries were awful yet she survived. McIntosh was returned to Britain and I can only hope the authorities see sense this time and keep him there.
The Templeton Woods Unsolved Murders
Years before two women were found only about 100 yards from each other in among the trees. At almost 8 pm on  20th March 1979 an 18 year old woman called Carol Lannen got into a red Ford Cortina. This was on Exchange Street in Dundee.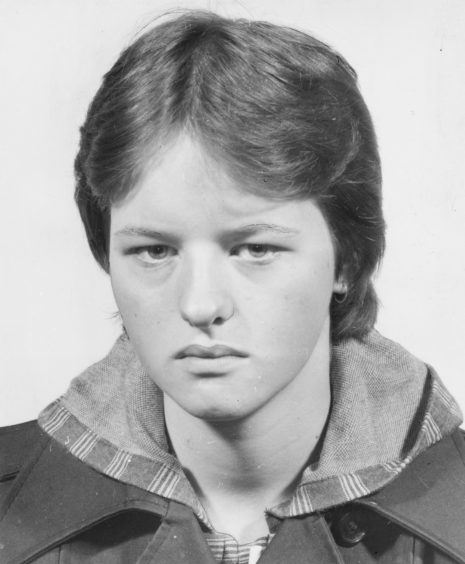 The following day this lady was found dead in the woods. That is a distance of only five miles (eight kilometres) away from where she was last seen. The investigation was complicated because Ms Lannen would occasionally work as a sex worker. It is believed that is what she was doing that night. When discovered she was naked and had been strangled to death.
Ms Lannen's murder tied in to torn, bloodstained, clothing found in a layby 67 miles ( 108 km) north of Dundee.
That is terrible and it got worse. The location the property was found is close to the Scottish city of Aberdeen in a spot called Westhill. Aberdeen is a centre for the oil and gas industry. A woman came forward to say she had got into a red car in Seaton Park. She had then been assaulted by the driver. She had not been injured but the cops set up road blocks and tried to trace the driver and vehicle. Sadly those efforts came to nothing. The below image was compiled using a process called Photofit.
The man was a said to be early 30s, well spoken and had brown hair and moustache.
Two weeks after Ms Lannen's body was discovered more of her property was uncovered. It had been dumped not far from Westhill at a place called Kintore.
The police went all out looking for the the man and the red car. They issued the Photofit, they went looking for witnesses and registered keepers of such vehicles. They got nowhere.
Elizabeth McCabe was a 20 year old nursery nurse. She had been on a night out on 11th February 1980. She was last seen leaving a Dundee night club. Her remains were found on 26th February in Templeton Woods. Accounts estimate the distance between where her body lay and where Ms Lannen had been placed was not more than 150 yards (138 m).
Ms McCabe could have walked in a general northerly direction for an hour home. She could have jumped in a cab for a 15 minute journey. Police have never been able to find a witness that saw her after she left the club. Once again clothing and property was not found with her body. In this case it was dumped at three sites around Dundee. As was the case in the murder of Carol Lannen, Ms McCabe had been strangled to death.
A Hit And A Miss. Both Templeton Woods Murders Remain Unsolved.
In 2007 a man called Vincent Simpson walked free from court. He had been acquitted of Elizabeth McCabe's murder. The understandable theory was that after leaving the nightclub the lady had got into a cab. Mr Simpson had been interviewed within five days of Ms McCabe going missing. At trial the police claimed partial DNA linked him to the crime scene. The defence argued that the police had not protected the samples from cross contamination. What did not help Mr Simpson was he admitted spying on courting couples in the woods, had walked his dog there the night Ms McCabe went missing and he had a Ford Cortina taxi.
His acquittal was absolute because unlike in other parts of the country Scotland has a half way verdict. You can be guilty, innocent or not proven. The last of those three options means that you might be innocent or guilty but the system has to let you go because the evidence is not strong enough to convict. I am not judging him I am just illustrating why, when the cops looked at the taxi angle, he became a prime suspect.
Scattered Property and Red Cars
In 1983 a sex worker called Sheila Anderson was killed in Edinburgh. She was found in an isolated park type area. She had been run over by a red car. Paint chips were recovered from her body. Also her property was dumped in another location 17 miles (27 km) away. Another very tentative link is that the place where she was killed, Gypsy Bra, has a wooded area that runs very near to the south.
Do you know of any other crimes in the USA, Australia or New Zealand that have these elements in them? I would appreciate an email if you do.
Thanks
John T
jtinehem@reasonedcrimechronicle.com
https://www.dailyrecord.co.uk/news/scottish-news/scotlands-unsolved-murders-40-years-22216742
Carol Lannen: Dundee unsolved murder hunt exploded to life again 40 years ago
https://www.dailyrecord.co.uk/news/scottish-news/scotlands-unsolved-murders-40-years-22216742
https://www.dailyrecord.co.uk/news/scottish-news/suspect-two-notorious-unsolved-scots-23500708