A Tale Of Bikers, Robbers, Police And The Unsolved Murder Of Theresa Allore
Many homicides that we write about could be made into movies. Perhaps all should be. That way greater awareness could be raised. Some unsolved killings have the potential for several seasons on Netflix. The case of Theresa Allore is one of them.

Brief Circumstances
I won't short change you. Below is a link to a website devoted to this murder. Here are the facts as I understand them and a description is worth reading to test your commitment. If you get into this case you should cancel your appointments until Christmas. Theresa Allore was a 19 year old student at Champlain College Lennoxville, Quebec, Canada. Her lodgings were in Compton, a 15 minute drive south.
On Friday 3rd November 1978 she disappeared from the campus. Five months later she was found. She was wearing only her underwear and had been drowned many months before. In the time she had been in the brackish water, only a half mile ( 1 Km), from her student accommodation the snows had come and gone. There was not a huge amount to work with.
The police decided that she had been out partying, ingested too much of some drug and had died. Her student friends must have then taken her and placed her in the river so they could avoid any consequences. However, what was available of this poor woman was analysed and the coroner was satisfied there were no drugs in her system.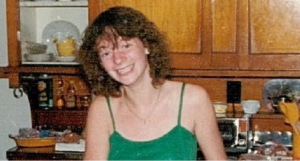 Meanwhile, out in the underworld of Quebec, a lot was going on. A later investigation by her brother and an investigative journalist dug up characters of the worst kind. They strongly indicate the cops were turning a blind eye to a lot of things in those days. You had a despicable group of biker gang connected robbers who claimed the cops would let them go merrily on their way if stopped. This same loosely banded group included a couple of brothers called Lachance. Gerald was the younger and Regis was the older. Both were deceased by the time a daughter of Gerald came forward. She is referred to as Alex ( a pseudonym ).
She told Theresa's brother, John Allore, that her father had made various incriminating statements. Some of the comments were just weird, like he had said he liked to strangle. The most relevant to Theresa was a description of how he and his brother had been involved in the murder of a hitchhiker. The girl, believed to have been 19 years old, had been offered a lift by the Lachance pair. At the wheel was another man who could have been one of a couple of different characters. Gerald Lachance related how Regis had dragged this girl out of the vehicle and disappeared into the trees near Compton. Gerald went to see what was happening and he came upon Regis holding the young woman by the back of the neck as he drowned her.
The idea that the Lachance brothers would never do such a thing is not backed up by the life style they led. They were violent criminals and associated with as bad as them.
Originally John Allore and his  journalist friend had thought that Theresa had been a victim of a notorious rapist called Luc Yolande Gregoire. Alex's testimony, once checked, turned the case on its head.
Loose Ends And Loose Thoughts
The abduction and murder of Theresa Allore becomes one of several cases as her brother goes through the narrative on his website. Most cities and districts like Quebec not only had a history like he paints, but still do. Out there are bad people and when they get together normally it is their stupidity that betrays them. It does sound like the drugs and general crime, along with a smear of police corruption, gave a nice environment for homicides like the one involving Theresa Allore.
Of course I only have his word for it. In fairness the police all over the world often do outstanding work. They often did outstanding work back in the 1970s as well. Those examples are also in the pages of this website. Mr Allore has put together an incredible amount of evidence and it seems well framed. The website he runs looks at many cases and is based on a podcast format. My only criticism is that in the Theresa Allore pages of text he seems to presume some prior knowledge of Quebec crime. Also the number of cases he talks about, along with so many criminal characters can get a bit confusing.
All that said he is to be commended for what he is doing. Just grab a legal pad and a couple of pens if you dive into this homicide. You will need them because it reads like a Falconer plot.
I would like to mention another hitchhiker related murder with the same anniversary. 3rd November 1982, 20 year old Tony Jones was last in contact with his family. He had been on a hiking tour of Australia when he vanished on the the notorious Flinders Highway.
Also the unsolved homicide of Vicky Glass in Middlesbrough, UK. This 21 year old lady was dropped off by a taxi  early one morning in the town. Her body was found on 3rd November 2000 by a dog walker. That was five weeks after she vanished.
Take Care
Tim
tim@reasonedcrimechronicle.com
I tried to link directly to his website but it didn't work. Here it is the old fashioned way:
theresaallore.com