The Horrific Unsolved Murder Of Margaret Frame: Brighton, UK

Mrs Frame was an employee at the Falmer Comprehensive ( ages 11-18) school in Brighton East Sussex. This 36 year old married mother was on her way home from the site near Lewes Road and in order to get there she took a shortcut through some woods.

She was attacked in an extremely brutal fashion. She was hit on the head and stabbed in the back. The large knife that was used struck her heart. She was also raped.
Her route to her home in Saunders Hill should have only taken 20 minutes. This was on the evening of 12th October 1978, it would have been nearly dark. Mrs Frame worked as a cleaner so there would have been few people spilling out from the school at that time of night.
It was be 10 days before her body was recovered. It is believed that the killer later returned to the crime scene and  moved Mrs Frame 500 yards ( about the same in metres) into another area. This was possibly done after the murderer saw the area searched and they hoped that by moving her body it might have remained undiscovered.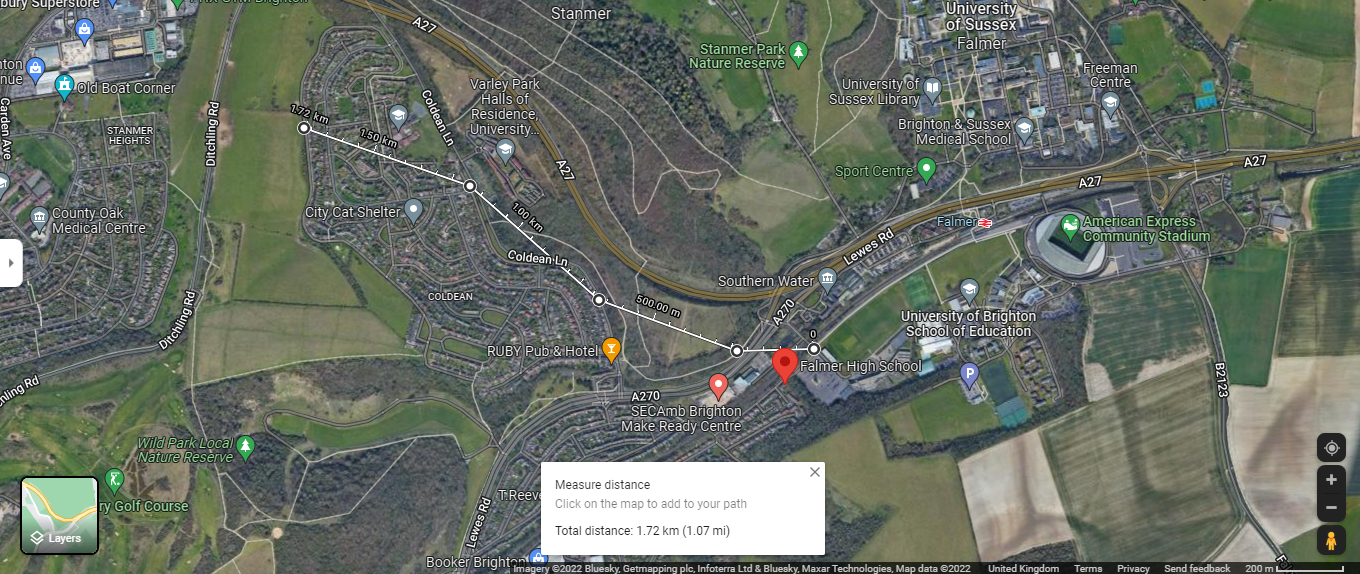 Apparently, on a hunch, a cop went to recheck some of the ground and found this lady buried under loose vegetation and branches. When she was found she had no clothes or jewellery on and an attempt had been made to disguise her identity. There are reports of an attempt to remove her head after death.
The knife was not found and despite a full enquiry, including the usual couple of thousand interviews of witnesses, no-one was ever charged. There were arrests. One of them was the father of a man later convicted of killing two nine year old Brighton girls. That case, from 1986, was not solved until Russell Bishop was convicted in 2018. See Babe in the Woods Murders
When I first saw this connection I did wonder if he was the culprit. Bishop was as low a life as you could get, but he would have been 13 years old at the time. His father is innocent of any wrong doing as far as I know. I do not know why he was arrested and interviewed over the murder of Margaret Frame.

This is widely believed to have been a murder committed by someone local. I have to agree. The route that this lady is said to have taken would have gone through a narrow area of trees. The access from the major road near the school would not have been busy on an October evening. There were no masses of surrounding houses at that point. So who would have maybe seen her there before and figured out her timeline or been there looking for a random opportunity? I would say a local.
Brighton is a busy resort, but the main areas are 5.5 miles ( 8.7 km ) away. This area is a suburb of sorts. The tree line these days is only about 200 ft (68 m) wide. I stress this because UK woodland and the perception of woodland in, say, the USA would make for a different context. We do have big areas of trees, this was not one of them.
I have wandered on Google along the main road between the school and the tree line over a course of years ( using the tool they provide) and as far back as 2009. Whatever cut through was used is no longer there. There is also not much mention of this murder any more online. A few updates and talk of a major review in 2000. Most of the mentions come as part of lists of outstanding unsolved killings.
It is funny, strange. The attack had hallmarks of military style brutality. The wound went through the rib cage and into the heart. The creature returned and attempted more damage after Mrs Frame died. Then nothing. Could someone kill like that and then simply stop or did they change their method and move on to kill again?
I have used a few calculated guesses on this. Normally, I can get old pictures and place routes and even crime scenes. If you know more please let me know and if you know who tell the cops.
We also wrote about another unsolved murder not far away. Jennifer Kiely was killed on the Eastbourne sea front in January 2005. This poor lady had had her challenges but was highly regarded. Someone stabbed her to death and set fire to a hut she was left in. Click here.
As I often do I write things up and then go and look again. I found a podcast that gives a detailed account of this murder. The approach is different and we both make separate parallel points. One thing they did was draw some information together about a convicted murderer who fits the bill. Peter Tobin preyed on women and was a serial killer. He lived in and around Brighton at this time.  I won't steal their thunder. I have put the link below.
Take Care
John
jtinehem@reasonedcrimechronicle.com 
https://www.theargus.co.uk/news/5162304.22-years-after-her-murder-police-re-open-hunt-for-margaret-frames-killer/
https://www.kentlive.news/news/sussex-news/5-most-horrifying-unsolved-murders-526036