The Wisconsin Unsolved Murders of Edward and Frances Cizauskas, Sheboygan

We are trying to spread the word about unsolved murders a bit further. Originally we had no intention of creating a site with 360 plus articles. I won't bore you with what we once thought, the point is we now have a way bigger site than we intended to create. So from now on when we see a list of unsolved cases already published we will point it out.
In March 2022 the Milwaukee Journal Sentinel did an article on seven prominent unsolved killings. We wrote up the Janet Raasch case. Also the article covers the homicides of Edward and Frances Cizauskas. This crime took place in Nov 1988, the location was Mill Rd, Sheboygan.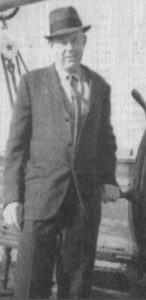 A man and his wife were in their 70s. Frances was 73 and her husband Edward was 75. They ran a scrap metal business and were found slain on 30th November. The couple were described as 'some of the nicest people you could ever find,' by a close friend. The family still need answers all these years later and are active in trying to find out who the killer (s) were.
Cops with the Sheboygan County Sherriff's Department are also very interested in closing the case and the FBI have become involved.
The scrap yard was called Eddies Jalopy Jungle and the couple were found in a barn which is no longer standing.

The overall feeling I get is the cops know, or at least are pretty sure, who killed this man and wife. Robbery seems to be the accepted motive.
The local law urge people who are or where local to step forward if they have information. I have just searched looking for why the FBI are involved. Being a Brit I only have a loose understanding of the way the FBI works. I thought they only got involved when there was cross state criminality suspected.  Maybe someone reading this knows the answer. I did a search on the local FBI office website, but the Cizauskas couple are not coming up in the results.

The below is a good article with plenty of quotes.
Also on the Milwaukee Journal list of unsolved are:
Stephen Kappell, Oshkosh, 1965
Cecilia and Ann Cadigan, 1991, Casco
Betty Rolf, 1988, Appleton
Wayne Pratt, 1963, Oshkosh-Neenah
Stay Safe
Faye
Ps I have also linked a podcast I saw. I will try and listen to it so for now it is not something we can fully vouch for. I just thought it might give some of the many details we have missed.
https://eu.jsonline.com/story/news/2022/03/29/wisconsin-unsolved-murders-true-crime-cold-cases-stevens-point-sheboygan-oshkosh-appleton/9344989002/
https://eu.sheboyganpress.com/story/news/crime/2021/11/23/sheboygan-detectives-fbi-working-1988-double-homicide-jalopy-jungle-case/6198075001/