The Sad Death Of Corrie McKeague: A Lesson About Missing Persons
I first want to say to anyone who knew this young man that I am sorry for your loss. This article is in no way pointing the finger at Mr McKeague over what is, for me, but for the grace of god go I.
I have been drunk and wandering many times years ago. It sort of goes hand in hand with British culture. When young, have a good time and drink a lot.
This 23 year old RAF gunner did what we all have. He went out with mates on 23rd September 2016 in Bury St Edmunds, Suffolk, UK. By the early hours of 24th September he had consumed a lot of alcohol. He was asked to leave a nightclub by staff. From what I can tell it was not because he was being particularly obnoxious. It was because he was very drunk.
He walked around the town centre and at one point appeared to fall asleep in a doorway for two hours. Unfortunately he did not just sleep there. He got up and walked to the Brentgovel Street area. There behind a British brand bake shop he found some big industrial sized bins.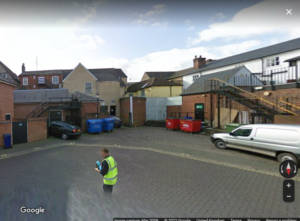 He climbed into one of them and it is believed he then resumed his sleep.
According to witnesses this was something he had said he had done before. Apart from smell and slime nothing worse should have happened to him. Unfortunately about an hour after he climbed in, a waste truck rolled up. This was at 04.19 am. The driver did what he did every time he was there. He backed up, hooked the bin on and dumped the contents into the back. The compressor did its work.
The inquest was told today that it is likely that Mr McKeague died of multiple injuries and asphyxia.
CCTV had caught some of his route from the nightclub so when he was reported missing there was a start point. A complicating factor was as a serving RAF military man security aspects were considered. The base he operated from, RAF Honington, was not far away. In the past not only has the UK suffered from IRA style attacks on servicemen but also the Middle East has spawned its own extremists who have targeted off duty military personnel. In short you would have had all hands, from all agencies, involved.
The mystery deepened though in the following days and weeks. There was no word from or sign of Mr McKeague.
The possibilities were:
Missing of his own will
Missing, as in held captive
Killed and Missing
Finally, you would have only accidental death left.
Months went to years. In the meantime Mr McKeague's girlfriend gave birth to a baby girl. The cops got the phone signal information and it showed his phone active on a certain route. No more CCTV captured any movement by the young man.
A theory began to develop.
What if he had climbed in a bin and been caught up when it was loaded on a wagon?
The impressive thing is they managed to track the truck that had killed him by examining a huge amount of data. Part of this were weight records of the bins collected. Initially the bin Mr McKeague was in showed only 11kg in weight. Later they found that was an error. It had weighted 116kg. This was about 70 or 80 kg more than usual. It was about the weight of one unfortunate young airman. When this truck's route was compared to the phone record it became tragically clear what had have happened.
Although the information indicated that the victim had been taken to a certain tip site it could not be certain where he ended up. Despite searches that went on for weeks this poor young man has not been found.
It was a mysterious case, there was no major body of water near where he was last seen. He was a fit young man who had no apparent reason to disappear. His father said he had been particularly bothered by the conspiracy theories that had surrounded his son's vanishing. He said they had, if anything, hindered progress. Don't they always?
I go further, our 'Professional Journalists' are the worst offenders.
I had a look and there are many theories that circulated about this young man and his associates. There is nothing worth printing here. Most of the ideas surrounded his life style. Of course that can be very relevant, however, the press does love speculating if there is any sexual angle. They will do that from the start. Long before any relevance is established.
What I will say is he was a young man who drank too much generally for his own safety as many of us have. He enjoyed a life as a young man and seems to have been a decent lad.
From our point of view what is there as a lesson in this?
We deal with mysterious unsolved murders and vanishing that can look like murder. Here is a bizarre set of ordinary circumstances that led to £2.5 million being spent on a police search.
Was it ordinary? Yes, the guy got it wrong, the truck turned up and his body was likely tipped into a huge area. This truck was an automatic pick up. No-one was close enough to hear him even if he had awoken. The inquest and family do not dispute the evidence. A tragic, ordinary set of misadventures.
Next time I see a missing person story that may become an unsolved murder I will remember this case. Innocently we sometimes do daft things that lead to awful consequences. The illogical actions we have taken can look very much like foul play took place or even otherworldly events.
Another similar situation came from garbage chutes. A particular case involving another young person and drink looked like it was murder. It was reported as such by mainstream media. The death of Phoebe Handsjuk was billed as extraordinary with heavy suspicion of foul play. When I looked around these long drop garbage chutes have seen the end of quite a few people.
Take Care of Yourselves Folks
Tim
https://www.dailymail.co.uk/news/article-10639987/Missing-Corrie-McKeague-23-died-climbing-bin-inquest-concludes.html